Master Keyword List
DataDive's MKL has evolved from Brandon's original Keyword Research Sheet. There have been many demonstrations of these fundamentals.
Disclaimer - don't over-rely on just software. Apply first principles i.e. understand what's going on and learn to make your own decisions. After that, by all means, use software to speed things up and free your time for learning something else. Please watch the InnerCirlce access masterclass modules or below public youtube demonstration.

Do a couple of product researches by hand as demonstrated in order to have confidence in using DataDive software.


Video Resources:
User Editing Note:
Throughout the sheet, there will be times where you will want to paste data into fields.
The Correct Method is to copy and paste just the values in the selected cells.
Ctrl+Shift+V (Windows/Chrome OS) or Cmd+Shift+V (macOS): Paste only the values of the Clipboard.
Incorrect Method is copy and pasting
Ctrl+V (Windows/Chrome OS) or Cmd+V (macOS): Paste the contents of the Clipboard to the sheet.
Note: The wrong way will cause the script in the sheet to break and you will have to reproduce your sheet for the software to work.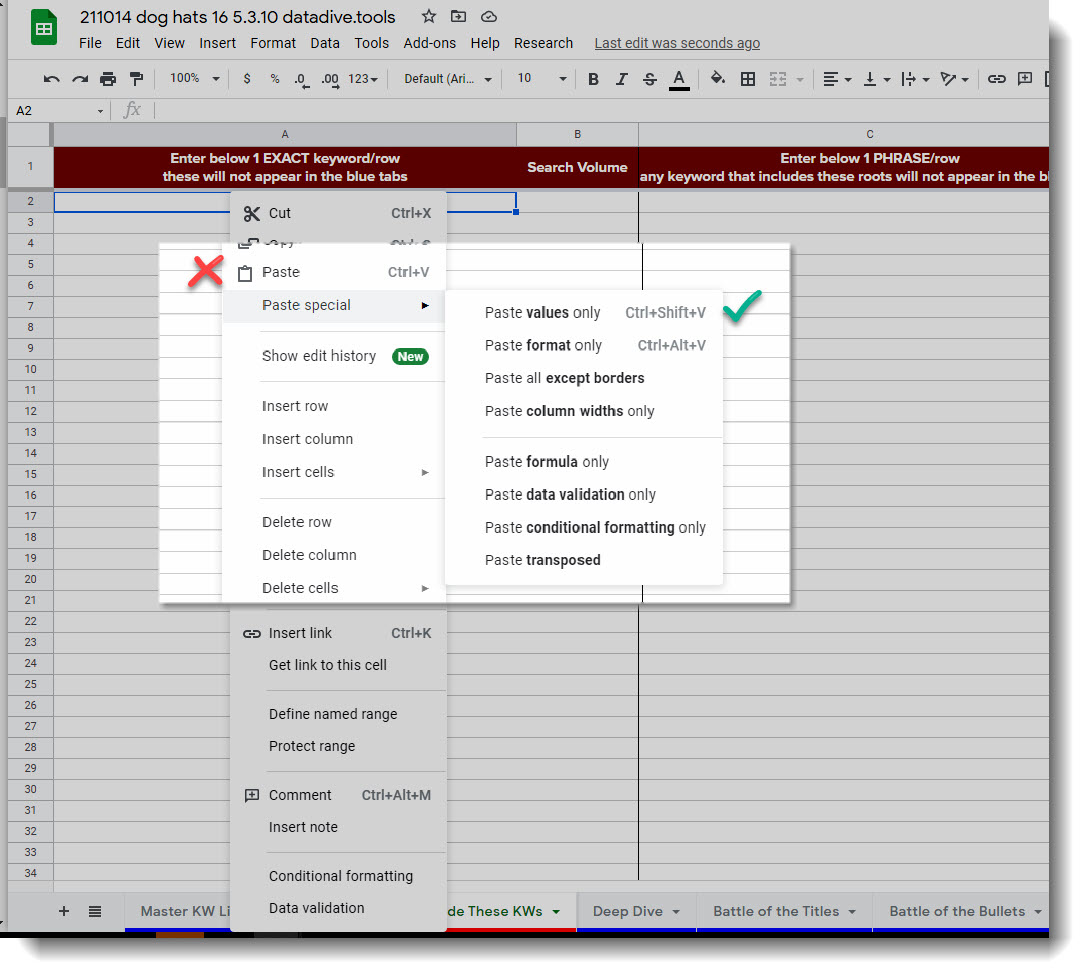 We recommend you leave these settings as default but you do have the option to alter these settings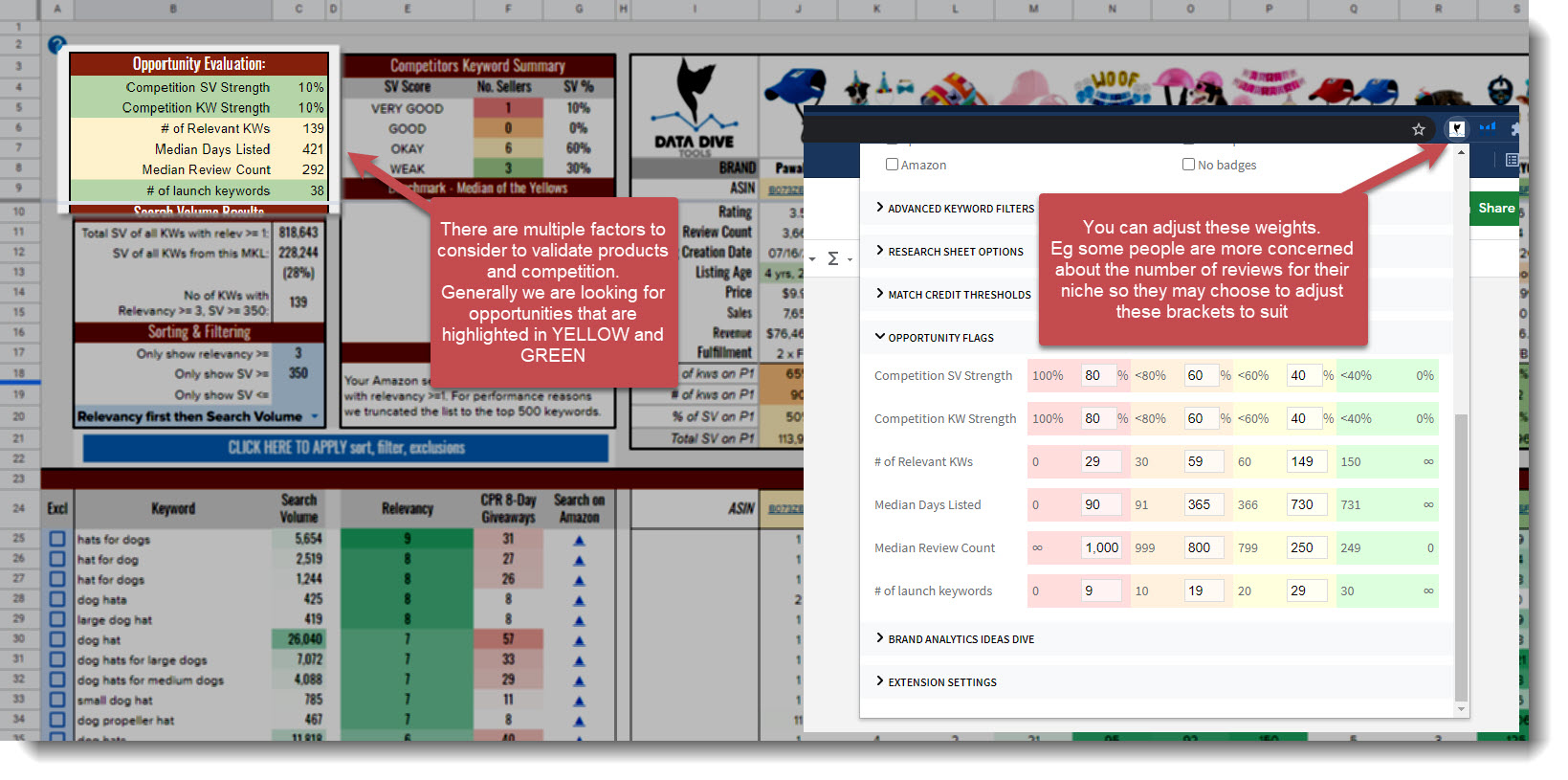 Competitors Keyword Summary - Search Volume Score
Competition SV strength
For each competitor, we check whether they rank on Page 1 for each keyword. If they do, we add that kw's SV to the comptitor's P1 number. At the end we compare that accumulated P1 SV with the total SV displayed in the MKL and that is the competitors %
Then, for each competitor we apply the 40%-60%-80% thresholds to determine whether they're weak, Ok etc competition
We count the competitors in each of the 4 categories
We sum up the reds and oranges and see what % they represent from the total competitors
We apply to that % the rules from deep dive tab (which by default are also 40%-60%-80% brackets) to determine competition strength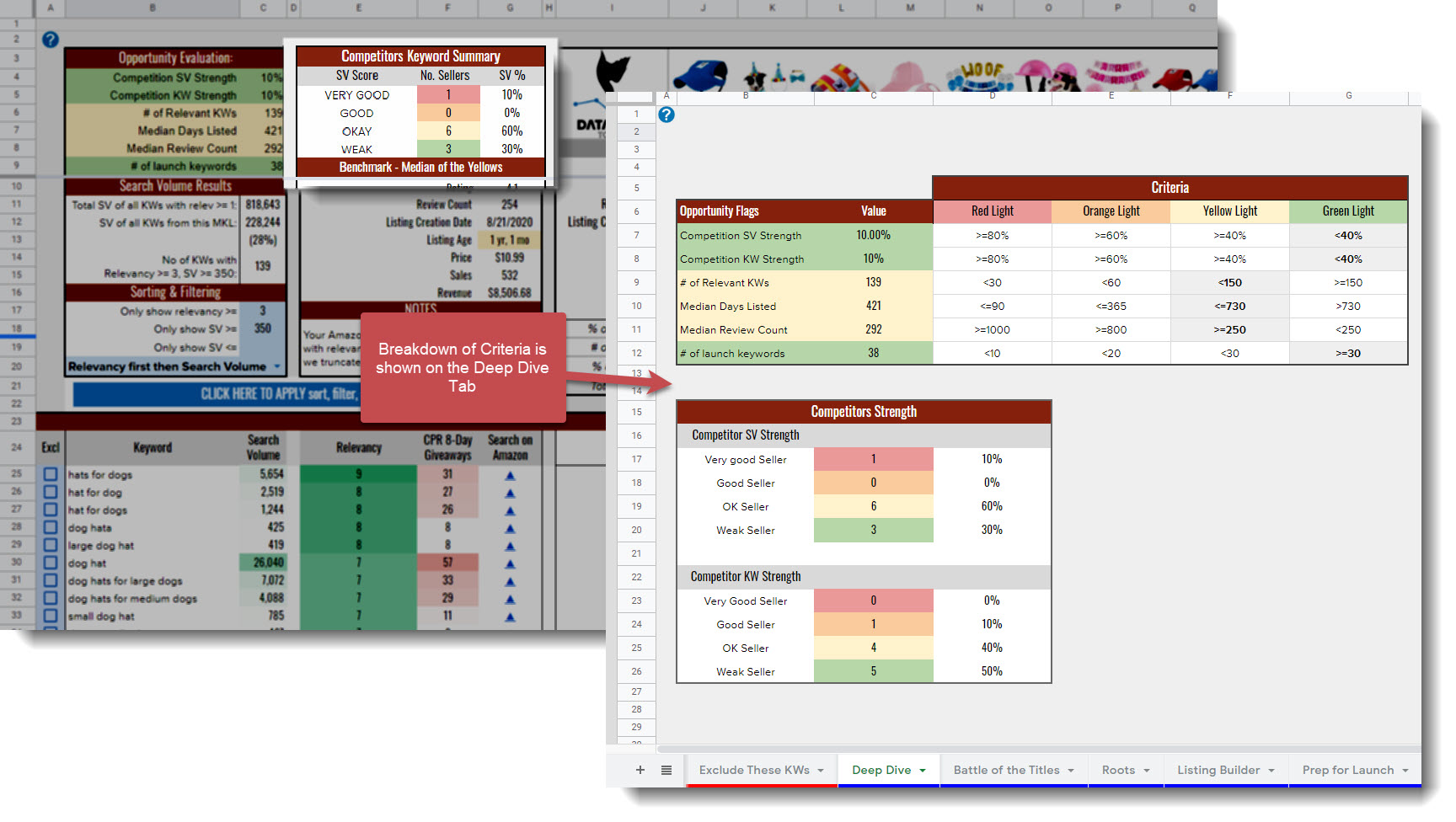 By default, we bring through Search Volume minimum at 300 SV. If you want to research lower SV then adjust your settings in the chrome extension tab before running the Datadive Xray function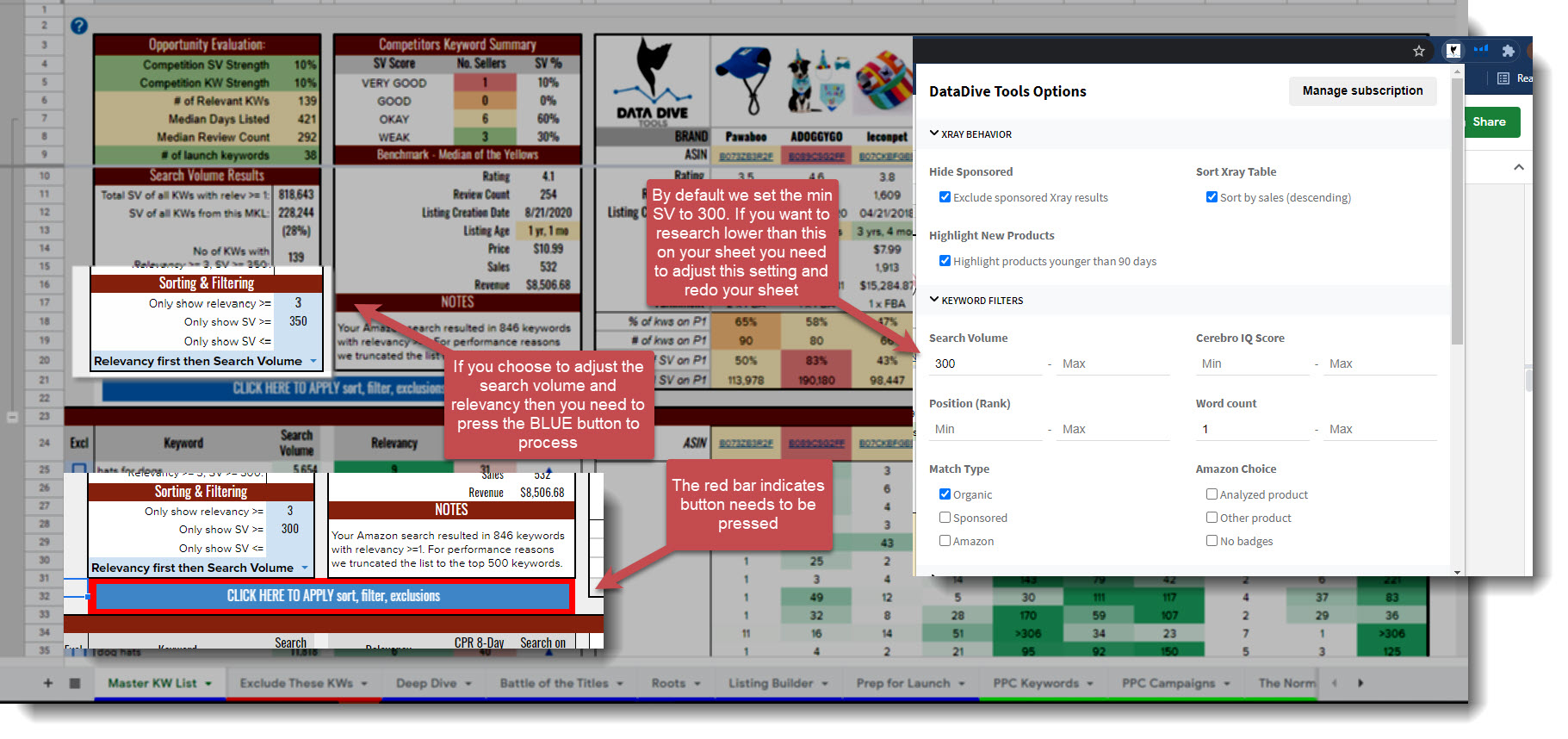 The main chart displays each ASIN's organic rank for the keyword shown on that row. Eg the first keyword 'dog hat' the first ASIN is ranked #1 and the second ASIN is ranked #29.
The ascending colouring from white to dark green indicates opportunities. White represents less opportunity to beat the competition, whereas if you see a board filled with greens it's indicating a better opportunity as competitors are ranked on less of the main keywords.
In summary lots of greens = good opportunity, lots of whites = bad opportunity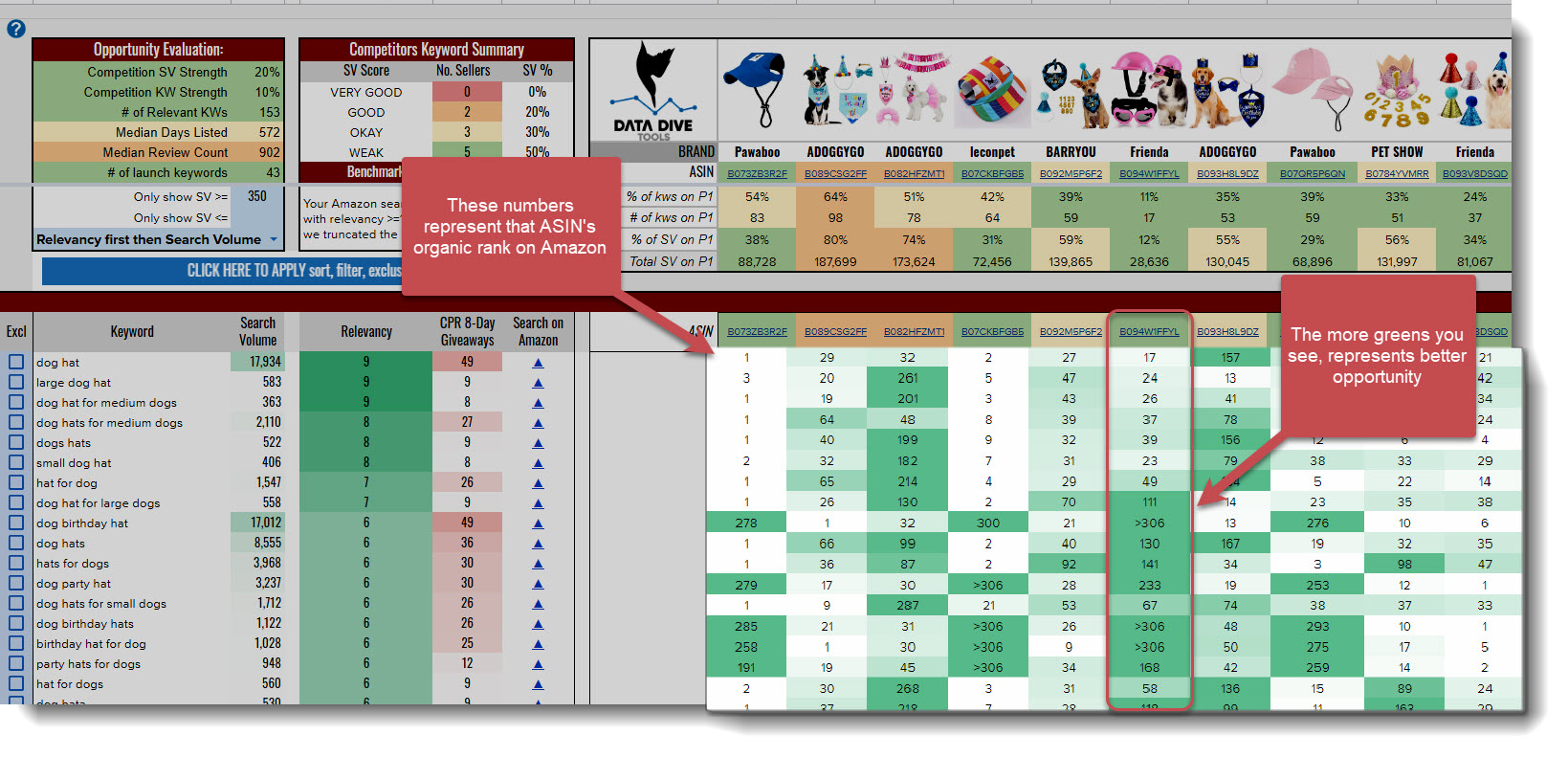 When you want to adjust sorting & filtering settings, you need to activate the filter function via this button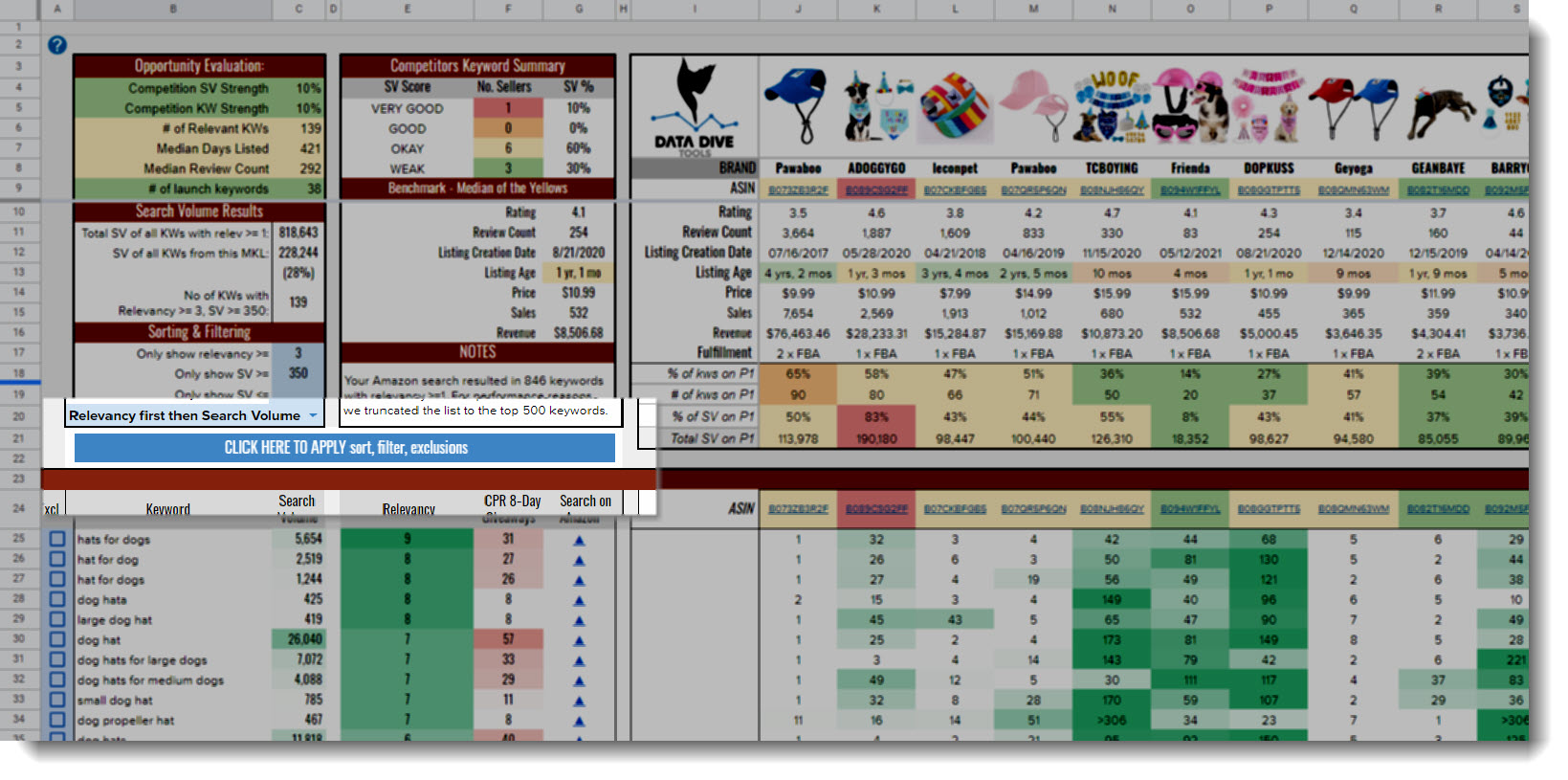 On Initial launch, Google Server needs to authenticate accounts, follow the below 3 steps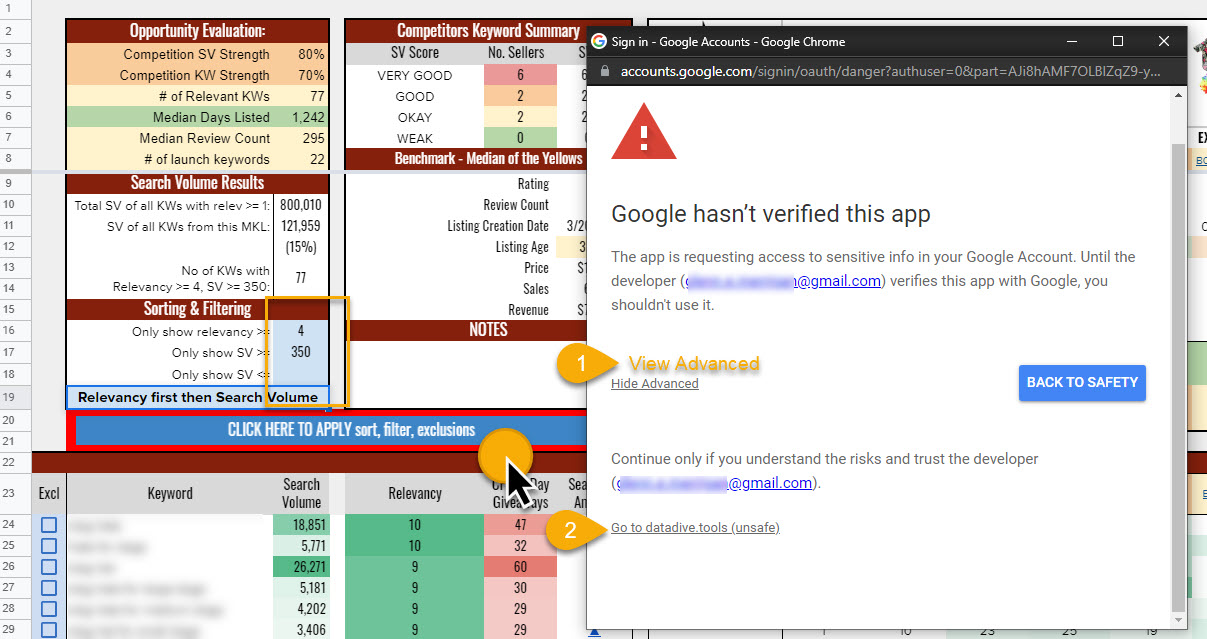 EXCLUDING KEYWORDS - Cleaning up your Master Keyword list
Virtually every sheet requires the user to remove non-relevant keywords and brand name keywords.
You can multi-select keywords and then press the filter button or manually paste them into the Exclude Tab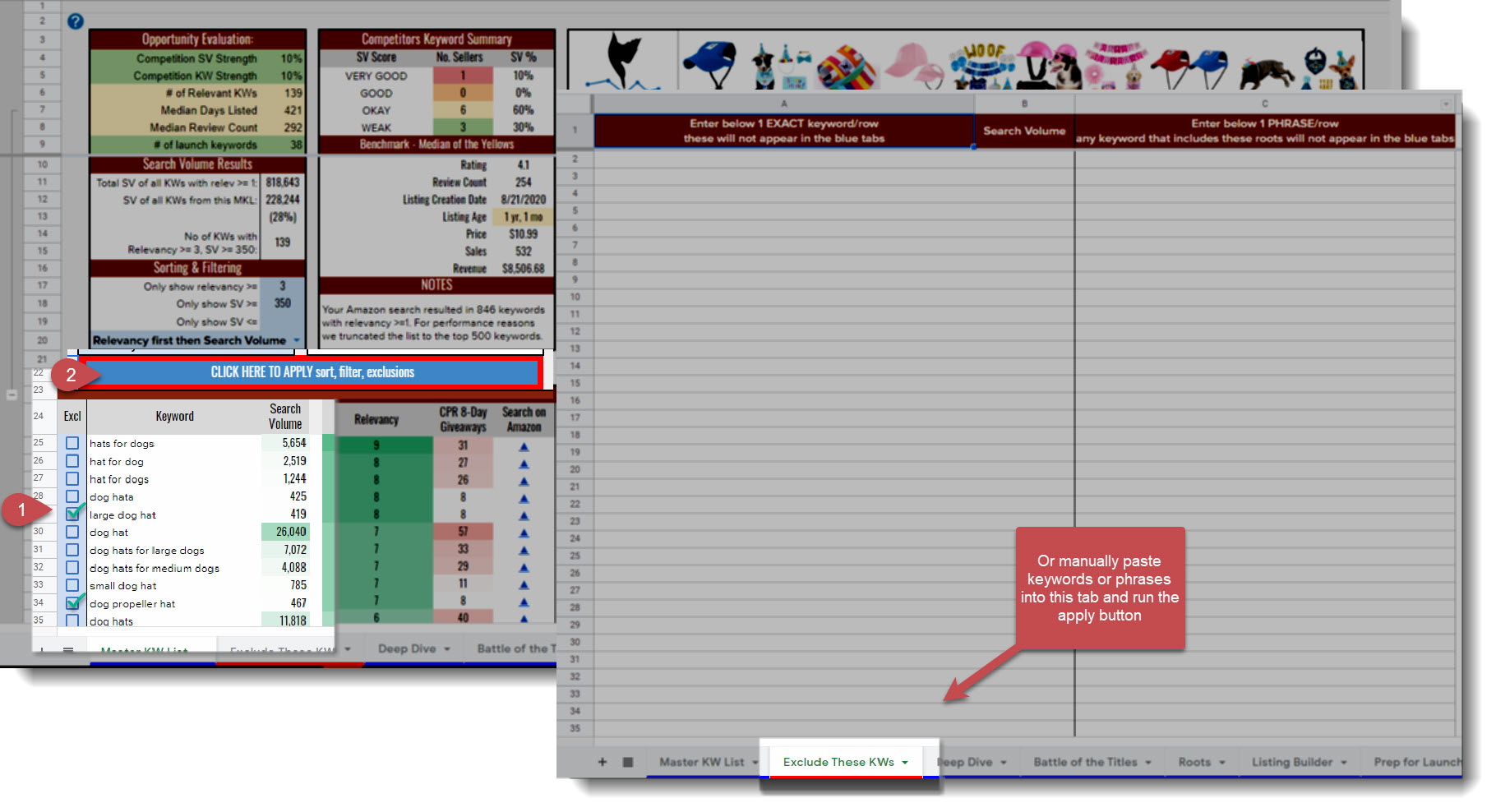 Collapse Button
When refining your MKL it is often useful to collapse the top metrics and focus on your keyword list by using the below button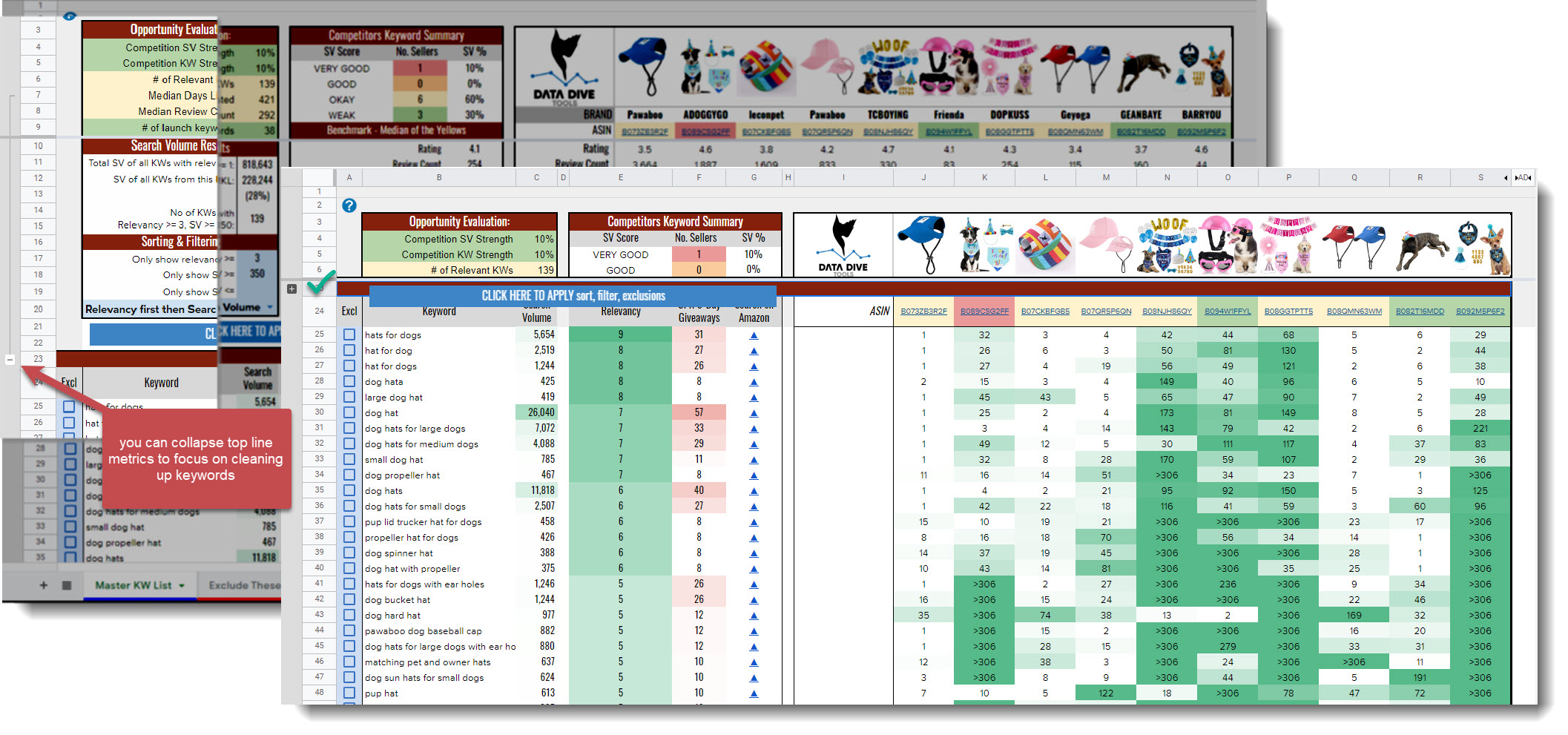 This is based on the cumulative search volume of the keywords. Refer InnerCircle special calls on subject
Example: Say the first keyword on your MKL has a SV of 10,000 and all the other 19 keywords combined also have 10,000 SV. A competitor that only ranks on kw #1 will have 5% risk in the old method because 1 keyword / 20 = 5%. In the new method, the same competitor will have a risk of 50%, which is clearly more accurate since they will be on Page 1 of 50% of all the searches performed by customers.
Launch Keywords
Launch Keywords is used for marketing/promotions outside of Amazon. For this launch strategy, we identified the sweet spot for launch with relative keywords within the sv range of 800-5000 that contained the roots we want to target.

This article will help - Prep for Launch

Now we mainly use PPC only for launch so these 'Launch Keywords' are not as necessary as a metric. Unless of course, you use outside marketing as part of your launch strategy.
Niche Median's


Calculation of Niche Median for Sales and Revenue instead of being a single number representing the median, is a range of two numbers; lower range (LR) and higher range (HR) represented as: LR - HR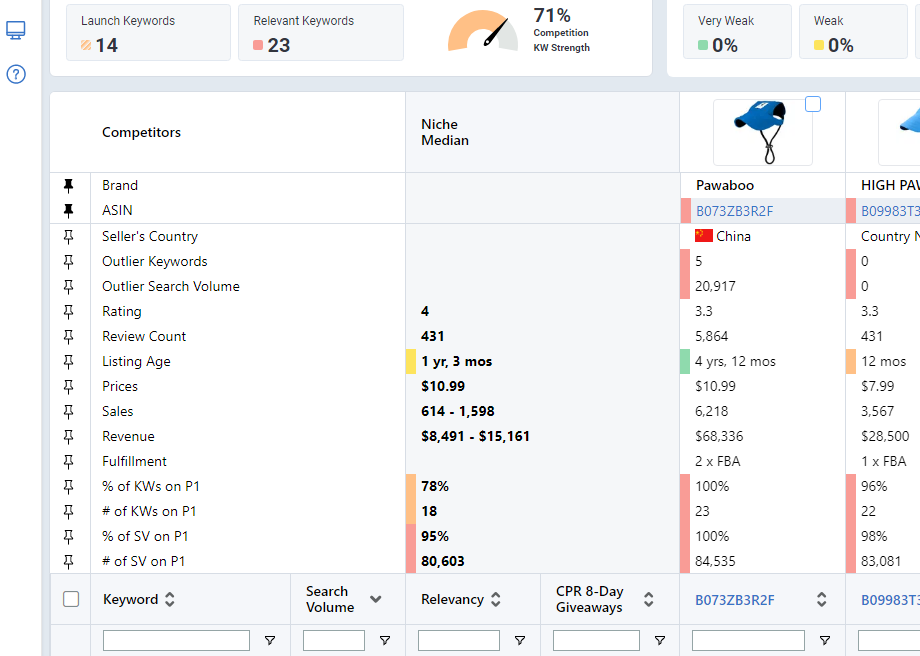 All other Niche Median's - Calculations exclude all red seller's data and calculate a medium value for the rest of the listed ASIN's.
CPR 8-Day Giveaways

Helium 10's proven calculation for how many products you would need to give away for free or discounted on Amazon over an eight (8) day period to rank your product with that keyword in your title on Amazon's page one for that specific search phrase or term. The number is calculated and included as part of your Magnet search results as well.

It is not commonly used now with PPC only launches, but can still be a useful metric if you are planning other forms of off amazon marketing at launch.