This app is blocked
On the rare occasion, Google blocks your account. Google does not think your account is reliable and blocks access. At this point we are working with individual's own accounts to identify and resolve, its not a software error.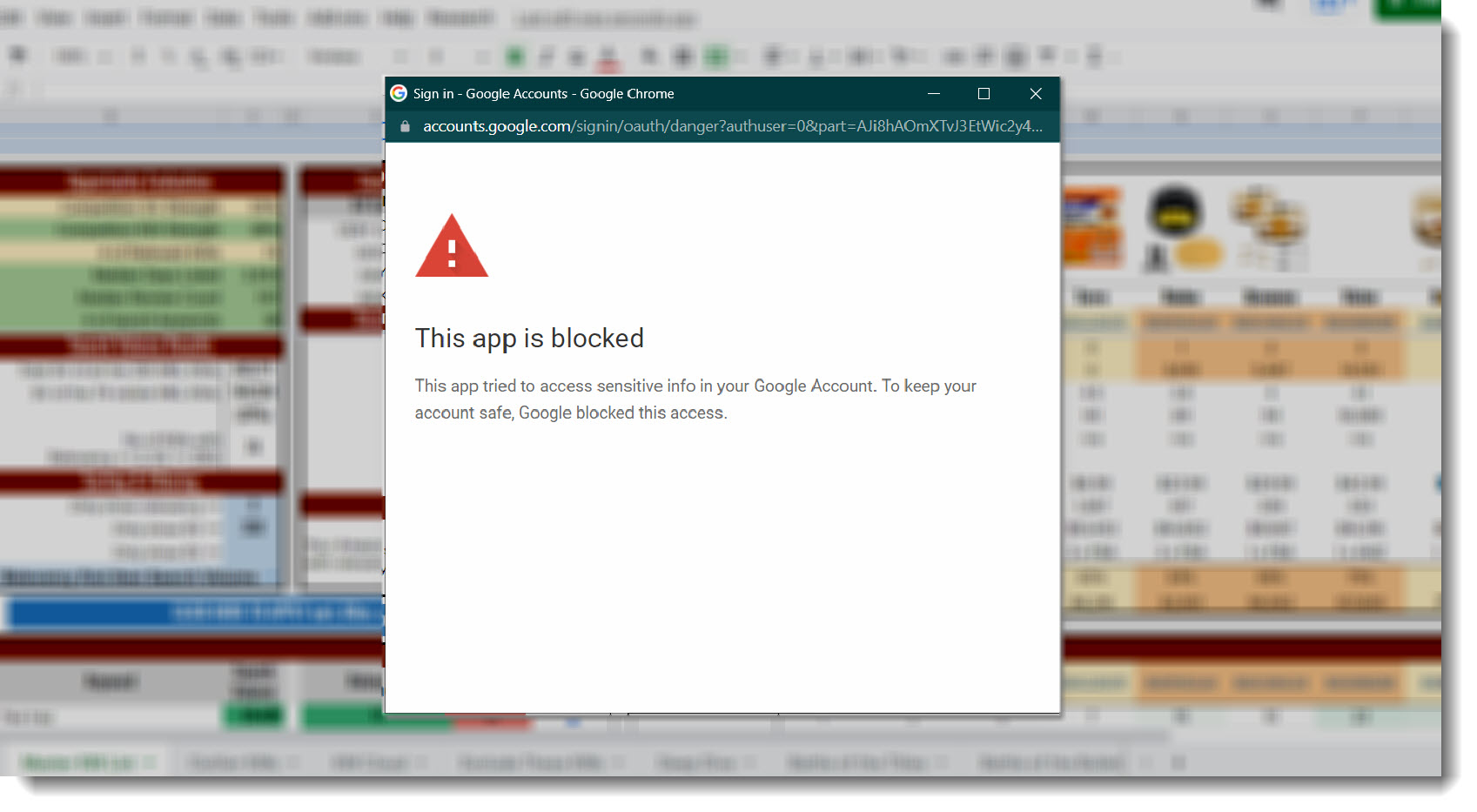 Try the following steps:
1) Go to https://app.datadive.tools/subscription and click 'Sign out'
2) Go to https://myaccount.google.com/permissions , locate the `datadive tools` app, click it and select `Remove Access` (There might be some copies, remove them all).
The following may help:
3) Go to https://myaccount.google.com/lesssecureapps and enable `Less Secure Apps Access`
4) Allow access via https://accounts.google.com/DisplayUnlockCaptcha
Note: Less Secure Apps Access and the UnlockCaptcha access don't make the account any less vulnerable (despite on how it sounds), this simply helps authorize new apps into the account. It's often not needed, but this is somthing to try if nothing else works.
5) Go back to https://app.datadive.tools/subscription and sign in again. The user will be prompted to accept permissions again, if applicable, be sure to select the Drive Permission checkbox
6) Create a new research sheet, run the filtering, and authorize script again via the sheet.
If you are still blocked, please create a test profile as displayed below.
If you are successful then it indicated that something on your old profile is corrupting your account. It could be another app interfering. And you might need to test by switching all other apps off and then slowly turning each one on when running new sheets to monitor results
Alternatively, test your existing profile on a different computer. If you are successful then you know that some other software and antivirus etc on the local PC needs to be identified and resolved.

If you are still unsuccessful on the new clean profile that has no additional app's then please provide support with an alternative gmail/gsuite email address.

Please contact support@datadive.tools and provide us with an alternative account.
Please test on a new profile
​​​